Virtual Airline Management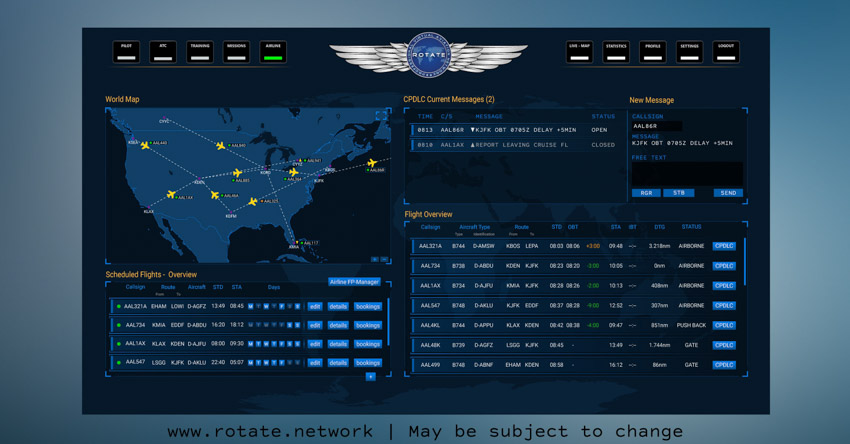 Virtual Airlines are the backbone of the Rotate Community for pilots. We want to facilitate them with a support system which will be deeply integrated into the Rotate Network's structure. For the first time all major aspects of real-world airlines will be present and integrated into a flight-sim network.
The virtual Airline Dashboard gives managers of virtual airlines a detailed overview of all flights and helps them communicate to active airline pilots via the network-wide CPDLC integration. Similar to the Live Map you can track every plane in your virtual airline, and get advanced statistics and time calculations, so you always stay up-to-date.
We will give you a multitude of tools to choose from and you can decide which ones you want to use. Almost all tools such as the participation in the global economy, realistic aircraft turn-arounds and flight plan management are optional. If you want, you can simply get your unique callsign and fly.
Getting a detailed view of all your virtual airline's flights is essential if you want to compete in a global economy and rank yourself against other virtual airlines. The live map gets regular updates from the system and checks if the flight is still in the timeframe or deviating from its planned course. That way you will know immediately when problems such as delays occur.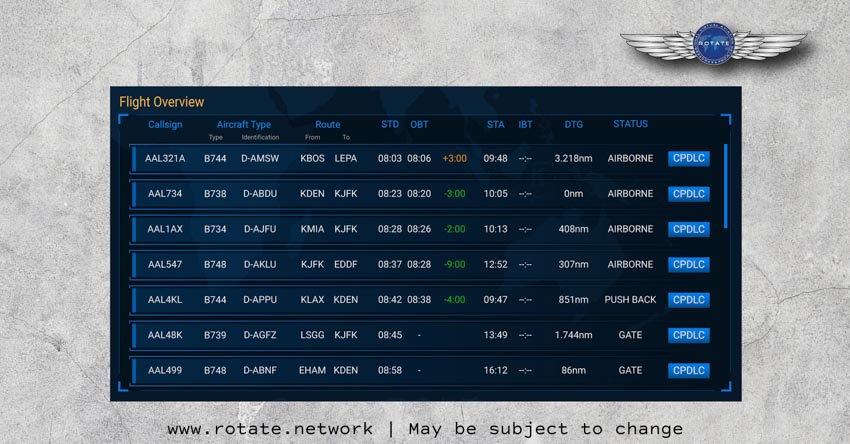 The flight list: a quick way to access the most relevant data.
Flight plans are essential for a smooth operation. Airline managers can easily file and validate one-time or recurring flight plans in the airline dashboard. Other pilots from your virtual airline will then be able to use them for their flights.
You can manage your planes by making them unique. Just as in real life you would have to fly from your last location, pilots will have to fly from the last known location of a plane. Unique aircrafts will add yet another layer of realism to the overall management of your virtual airline.
This is just a first look into our extensive virtual airline system, over the coming weeks we will release more information about the airline economy and give you a chance to register your virtual airline in the Rotate Network.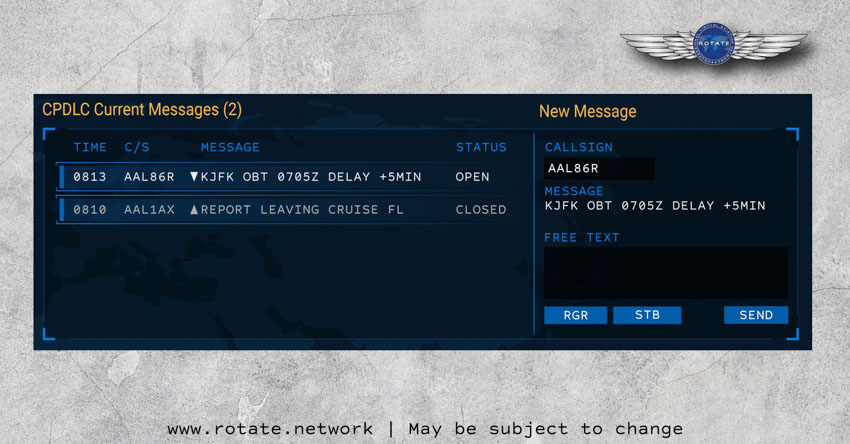 Network-wide CPDLC provides fast and easy communication with your pilots.
Sign-up for Rotate today
to give us your thoughts on the Network
Forum
and be one of the first to know how the network is developing – and don't forget to follow us on
Facebook
and
Twitter
.